Most people have doubts about where we live in the time we are in a given city. And the answer always comes naturally: we rented an ap! But, it's not about the conventional and bureaucratic rent we're talking about. It's about Airbnb!
Airbnb is undoubtedly the biggest lodging revolution I've come across in recent years. It is an online platform that allows 'rent per season', let's say so, from renting a full apartment for 1 month, or a shared room for 1 day. For you to understand better, let us show you how it works.
Types of accommodation
Real estate owners can advertise their space on the site in three ways: 'The whole place'; 'Whole room'; And 'Shared room'. Let's face the differences:
1. The whole place: the owner does not live in the property and the full rent, all furnished, with daily items, including bed linen and bath. The place is only for you.
2. Entire room: the owner lives on the premises and rents only one room in the property, or a small house, for example. The room (sometimes suite) is individual and private, but the kitchen, laundry, living room, etc are shared with the family / resident.
3. Shared room: it works as a hostel (and has several ads for hostels in this mode). It is a collective house, where you share everything with the family owner or with the other guests. In this case, no environment is private.
We, as we need to work and have a routine to fulfill – phone service, customers, etc., we always rent the whole place, because it gives us more freedom of schedules and privacy too, after all, we stayed a month in each city.
The choice
In the most touristy cities, the offer of real estate is enormous. There are for all styles and with varying prices (which you can also filter for your average).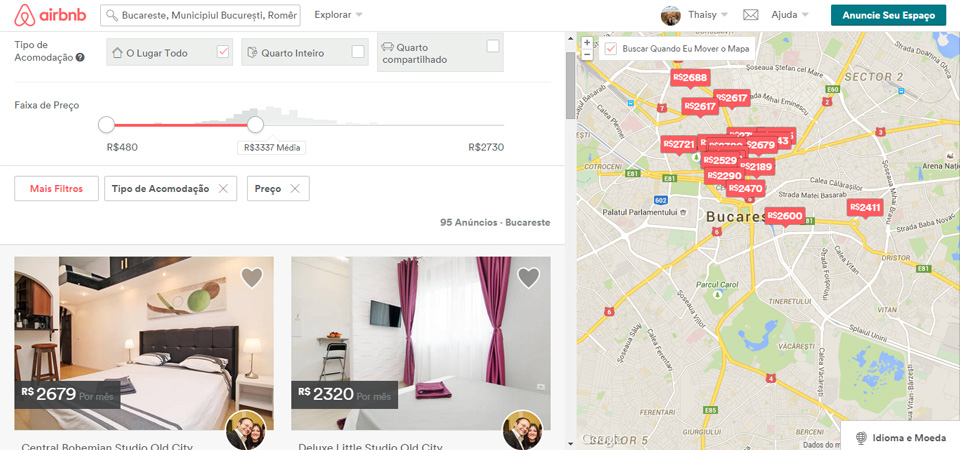 Again by the routine, we need some essential items and, for this reason, we already filter our search. The location must have:
Great internet (indispensable)
Good place to work (indispensable)
Full kitchen (indispensable)
Bed that feels comfortable (indispensable)
Washing machine (desirable)
Air conditioning – to the hottest locations (desirable).
In addition, ideally be well located, that is, not far from public transport and close to the commerce in general.
In the search we also observe the comments about the place and the 'note' of the host (as the person who rents the space is called).
We give a greater weight when these items are positive and the host is classified as 'Superhost', because after all, we will be in an unknown place, with different laws and standards, and in case something very serious happens in the property, for example, we need to a contact person who is available to help and resolve problems. Just as a precaution.
Reservation
Before we book, we always send a message to the host, introducing us and asking about the basic items, when there is no more complete description in the ad. This is already a way to check the availability and attention of the person renting the space and also show her what we do and why we are spending a month in the city.
What we have seen so far is that 4 months in advance you can find very good and cheap places. Already from 2 months, the search is more restricted, mainly because the spaces are allocated for weekends or a few days, which does not allow the rental of a direct month as we need.
We spend a month in each place so as to get to know each city and region better, we can spend a whole month to rent a space for a full month, which is cheaper than renting 4 spaces a week, for example. There are also those who rent for a few days and arriving in the city go out in search of other cheaper rent apartments, but we prefer to secure space for the entire period of stay to avoid inconvenience.
Safety
Frequently Asked Question: Is Airbnb Safe? And the answer is: yes, satisfactorily safe! Until today we had no problems and we do not know anyone who went through some unpleasant situation using Airbnb.
All our hosts were great, welcomed us very well, passed all necessary standards and tips and became available, leaving us ways to contact them and other information.
Stay
After we arrived, we started learning about the apartment, where things are, how the equipment works (had a modern German electric oven complicated in Spain !!) and soon settled in and felt truly at home.
A key factor for us is taking care of the place as if it were ours too, after all, it is for a month! So, all the care we had in our house, including cleaning and some maintenances, we do in the rental properties via Airbnb.
And now talking like me, Thaisy: the most delicious thing about changing your apartment every month is having a new decoration without having to spend to change everything!!
So, access this link, get a discount on your first stay and make yourself at home!